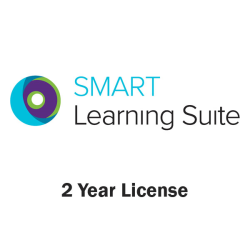 Two Year Subscription to SMART Learning Suite.
The SMART Learning Suite subscription includes online and desktop software that integrates a variety of educational technologies for elevating teaching and learning through formative assessments, game-based learning, and student collaboration, both in and out of the classroom.
High volume pricing:
Qty 11-20 $67.54
Qty 21-50 $63.04
Qty 51-100 $58.53
Qty 101-500 $54.04
Qty 501-1000 $49.53
REMC ITEM #232219
Pricing valid for eligible REMC SAVE customers only.  Orders placed by non-eligible customers will be cancelled. 
POPULAR PRODUCTS