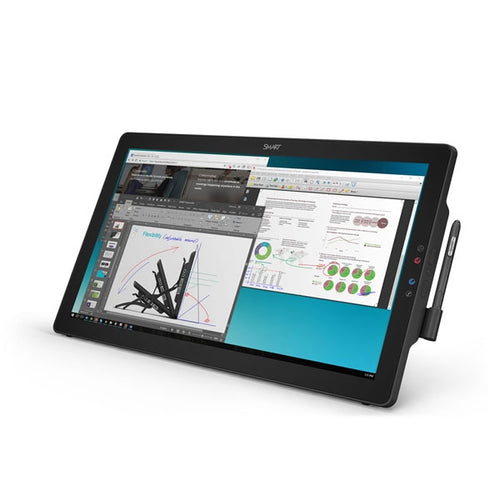 The SMART Podium 624 interactive pen display with touch helps professors and instructors communicate more effectively, improving student comprehension. While projecting to a large display, instructors can add notes or illustrations to their presentations on the touch screen. Students participate more when professors capture their ideas, questions and feedback in the lesson while maintaining eye contact.
The Podium 624 includes 1 year of SMART Learning Suite. SMART Learning Suite combines lesson delivery, assessment, student collaboration and game-based learning software into one ultimate education suite. It connects students, teachers and devices to turn lessons into enriching learning experiences.
Download SMART Podium 624 Brochure
SMART ink technology

SMART ink lets you write over websites, videos, and into PDFs and Microsoft Office® files, and save your notes in almost any file type.

24" Full HD Touch Screen

Featuring 10 touch points and 4 pre-set buttons (black, blue, red and SMART ink), instructors have almost unlimited ways to illustrate key concepts. The anti-glare surface with Silktouch frictionless feel, Full HD (1920 x 1080) resolution and adjustable stand provide uncompromising touch experience and image quality.
Authorized SMART Technologies Dealer in Michigan
POPULAR PRODUCTS